Speed Kit is a one-click solution to accelerate your website. By rerouting your web traffic through Speed Kit's caching infrastructure, it achieves a typical performance boost of 50-300%!
Speed Kit will optimize your website in the following ways – all fully automatic:
Features:
Dynamic Content Caching: In contrast to all other acceleration plugins, Speed Kit caches even frequently changing data such as your website's HTML or user comments. Through its unique Bloom filter-based cache coherence scheme, it makes sure that no user ever sees stale content.
Image Optimization: By resizing and transcoding images according to the user's device dimensions, Speed Kit saves bandwidth and accelerates page loads.
3rd-Party Caching: Speed Kit caches and accelerates third-party assets (e.g. Google fonts) which are uncacheable for CDNs.
Edge & Client Caching: Speed Kit serves your data not only from CDN edge caches, but also from caches within the user device (browser cache, Service Worker cache) for instant load times.
Personalized Content Caching: Through Dynamic Blocks, Speed Kit accelerates even personalized data such as a shopping cart or a user-specific greeting.
HTTP/2 & Network Optimization: Speed Kit uses an encrypted HTTP/2 connection and automatically optimizes the entire network protocol stack to give your users the ideal surfing experience.
Performance Monitoring: Speed Kit measures and optimizes the Speed Index and the First Meaningful Paint of your website, i.e. your website feels faster for users.
Web Push & Offline Mode: Speed Kit transforms your website into a full-fledged Progressive Web App (PWA). The built-in Offline Mode hides network problems from your users by showing the last-seen version of your website instead of an error message whenever there are connectivity issues. Web Push further lets you re-engage website visitors with ease.
Enabling Speed Kit:
If not enabled by default, it is recommended that you turn Speed Kit on in order to take advantage of a faster running website. To enable Speed Kit, please follow these simple steps:
Log in to your Client Area
Click the "Services" drop-down menu and select "My Services"

Select the subscription you wish to manage by simply clicking on its name.

Click on the "Manage Server" button to sign into your Gate.com Server Manager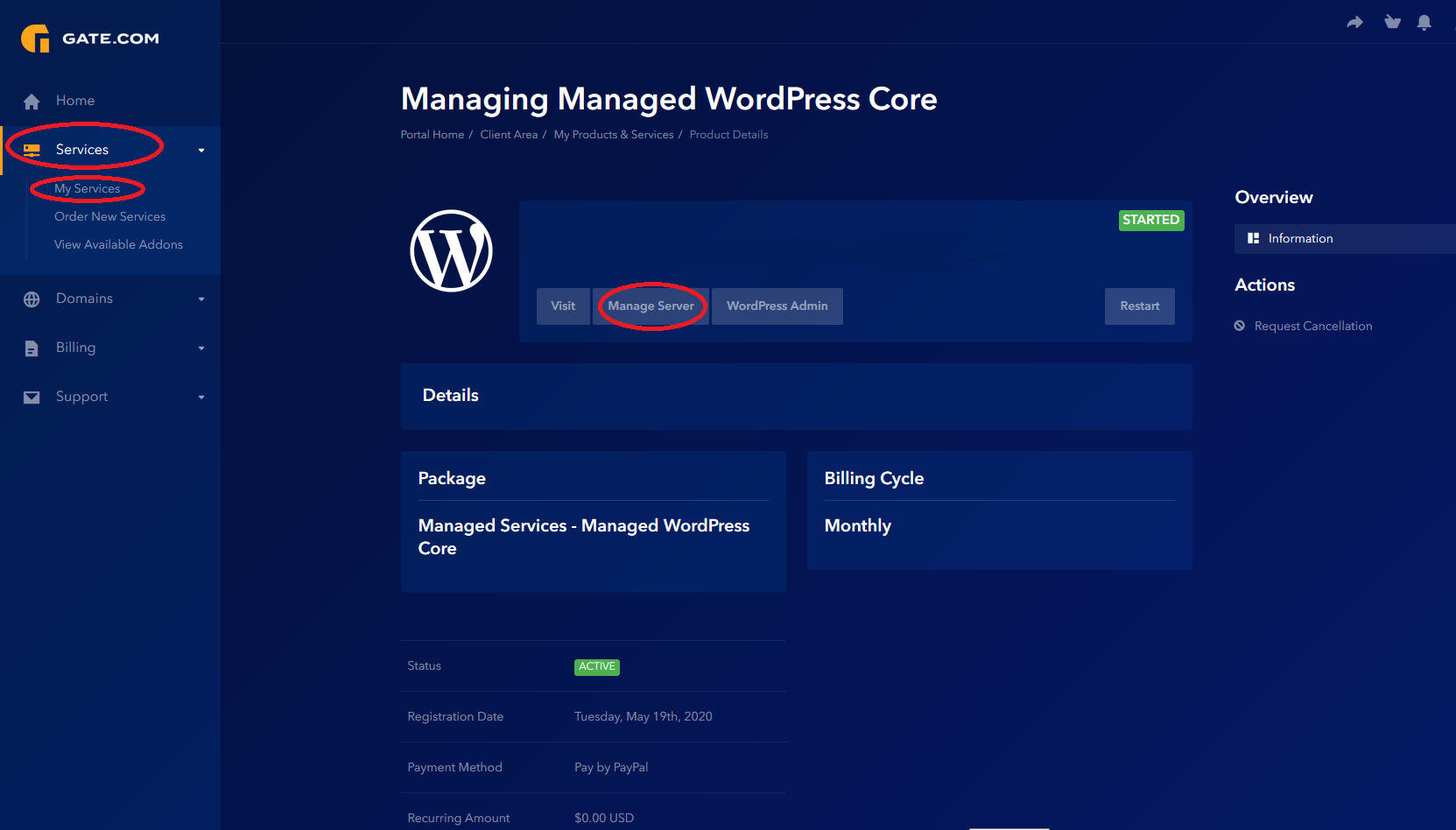 Select the "Speed Kit" section on your left sidebar and c

lick on "Activate" for the domain you wish to have SpeedKit enabled for.
Note: You have 1 Speed Kit license per your subscription, therefore you can only have the tool active for 1 domain at a time. You may, however, toggle it on and off between your domains.
Done. SpeedKit is activated and your website is already faster because of it. No additional configuration is required, however if you wish to fine-tune your settings, you may follow the guidelines in the "How It Works" section